How Do You Favorite Cereals Stack Up? Weigh In Now!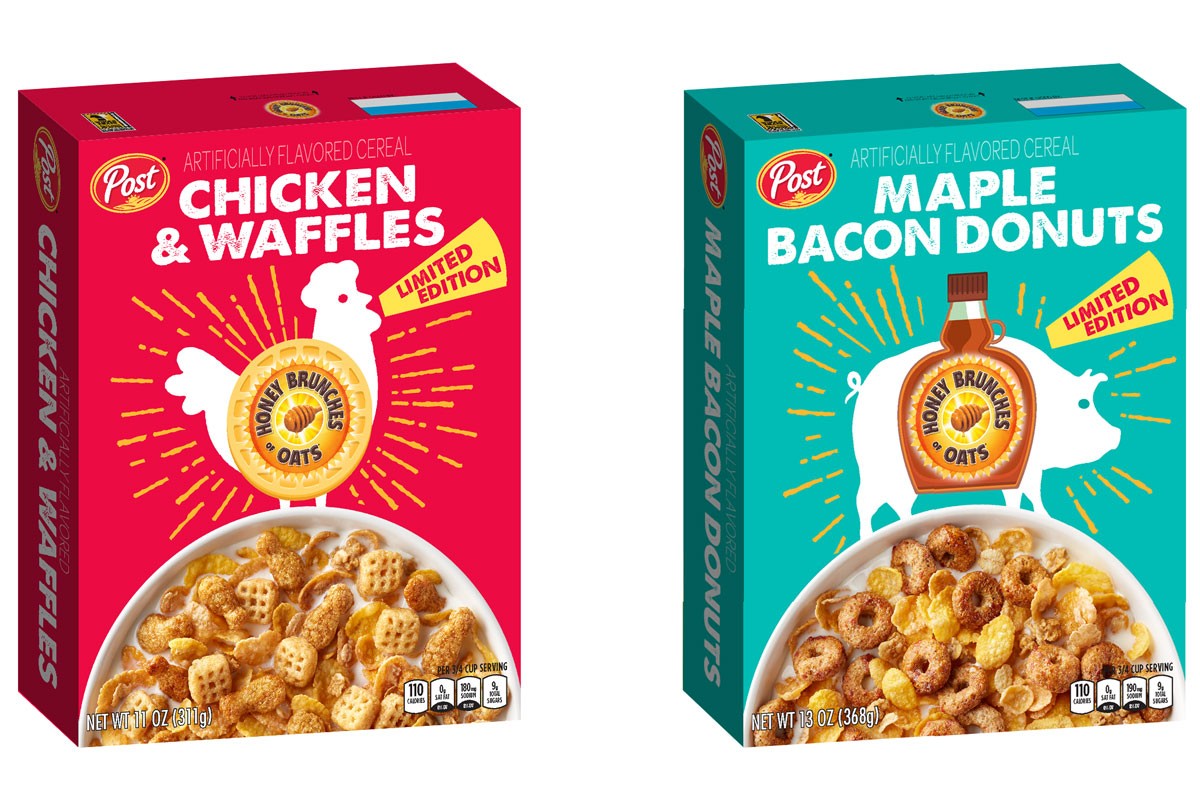 It's national cereal day. Who decides this is a mystery to me, but let's embrace it because it's pretty much the one story in the news that doesn't cause a heated debate… or does it?? Get this… to commemorate the occasion, Post cereals is releasing two different, absolutely controversial cereals: Chicken and Waffle flavored Honey Bunches of Oats, and Maple Bacon flavored Honey Bunches of Oats. Now if you know me, you know I absolutely love a taste test, and as much as I want to roll my eyes at these, you also know I will absolutely try them and post about them later.
But for now, let's put this odd news behind us and have some fun with a cereal poll.
Scroll down the page and pick your favorites for 'Best in Bowl!' Then share the post on facebook and twitter to see how your opinions stack up! (Like bowls, stacking up. Get it? Nevermind.)
For more craziness, follow @BrianBalthazar on instagram and twitter!
Disney Lovers Add A Mouse-Eared Twist To The Popular Cookie Cereal Trend
A Nestle Toll-Mouse collaboration.
The mini-cereal trend is one I hope is here to stay. It combines two things I love, cereal and regularly sized things shrunken down to make me feel like an almighty giant. Over the past few weeks we've seen the trend take on a bunch of different forms like the pancake cereal trend, the croissant cereal trend and the cookie cereal trend. While the recipes aren't exactly rocket science (they're just miniature versions of the original foods put into a bowl), they sure are fun to make and even more fun to eat. Well, one Instagram account shared their magical twist on the cookie cereal trend and transformed their breakfast treat into something any Disney theme park would be happy to serve.
The account @WeKnowDisney shared an image of Mickey Mouse Cookie Cereal and it truly looks like the happiest breakfast on earth. The caption on the post suggests cutting out Mickey Mouse shapes in the cookie dough before baking to achieve the desired Disney effect. They offer some pro tips as well, like using store bought cookie dough and baking the cookies until crispy so they don't get too soggy from the milk. Whimsical and practical, what more can you ask for?
The post has already been liked a few thousand times and shared even more. Check out the post below and jump on the almighty cereal trend too!
Like what you read? Follow me on Instagram
Kylie Jenner Reveals Her Unusual Secret Recipe For French Toast
Fill your mornings with this delightful Carb-dashian.
We all know to look to the Kardashian-Jenner family for beauty tips, shape wear secrets and endless reality television entertainment but maybe we should look to them for cooking lessons too?
Kylie Jenner shared her secret recipe for French toast on social media this weekend and fans were quick to notice an unusual twist to the breakfast standard. After dredging the bread in a jazzed up egg mixture, Jenner then coats  the toast in cereal and finishes off the plate with some brown sugar. Kind of brilliant additions truthfully.
Jenner breaks down her technique in just a few simple steps. "Made up my mixture with eggs, milk, vanilla extract and cinnamon. And then crushed up frosted cornflakes" she began.
Like with traditional French toast, the lip kit creator soaked the slice of thick bread in the egg mixture but then rolled it in the crushed cornflakes several times. She then fried up the bread in a pan with some melted butter and finished it with a sprinkle of brown sugar because "a little brown sugar never hurt nobody."
The end product looks pretty delicious especially when Jenner mentions she served it up with some thick cut bacon. She posted a final picture of the toast dripping with syrup and damn, I just added cornflakes to my shopping list.
Seems like a pretty simple and delicious breakfast to me! Do we petition a "Kooking With Kylie" show on the FoodNetwork or am I just really excited about this breakfast? Either way you can follow Kylie Jenner here and hope for more kitchen tips!
Like what you read? Follow me on Instagram
'Pancake Cereal' Is The Perfect New Trend To Make These Days At Home Just A Little Bit Batter
Finally, a way to have your pancake and eat it too.
Griddle me this: how can you improve on a breakfast favorite such as a fluffy stack of flapjacks? Easy, turn it into another breakfast favorite.
You won't be finding "Pancake Cereal" boxed up alongside Silly Rabbits and Lucky Leprechauns, instead it's something we can whip up right in our own kitchens. The concept is so simple I can't believe it hasn't been cooked up sooner…once again TikTok is the saving grace of quarantine. Heat up your griddle, squirt out enough batter to make dozens of quarter-sized pancakes, give those babies a little flip and voila, breakfast is ready. Fill your bowl with your petit pancakes and rather than pouring on the milk, add a generous pad of butter and some of your favorite syrup.
So spend your days home jumping onto this trend before IHOP starts churning out IBOPs (International Bowls Of Pancakes) of their own!
Like what you read? Follow me on Instagram