VIDEO: Cheetos Bagels And Grasshoppers Are Just Some Of The Unusual Things Brian Balthazar Has Eaten On 'The Wendy Williams Show'
You've seen pop culture expert, Brian Balthazar, appear on The Wendy Williams Show quite a bit over the last few years. He even co-hosted the show on three separate occasions. It wasn't until his last visit where he and Jason Biggs chowed down on a KFC Cheetos Chicken Sandwich that it hit me: Being on the daytime talk show makes Brian Balthazar hungry!

The proof is in the pudding…pun definitely intended. Carla Hall made sure to bring some snacks for Brian when they cohosted together.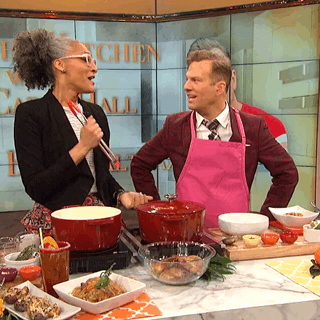 Sure, Wendy is known for telling us to "grab a snack and come on back"…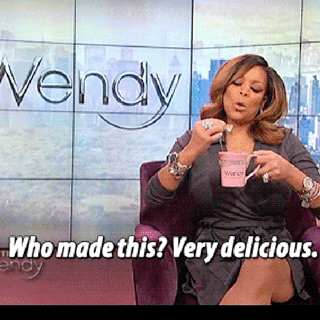 But you'd have to be absolutely famished to want to eat fish sliders at 10am.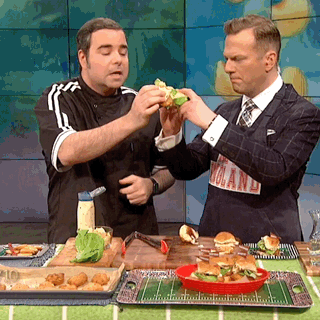 He's gotten so hungry he resorted to eating GRASSHOPPER TACOS on the show!

Could it be that Brian isn't actually hungry though? Could he just be a brave soul willing to be the taste tester so we don't have to? Could my theory be flawed?!
I suddenly feel like maybe we owe Brian a big thanks…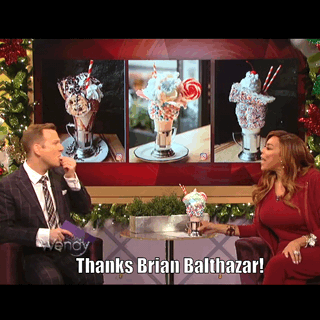 Either way, it's fun to watch! Click below to take a look at a compilation of all the fun stuff Brian Balthazar has eaten on The Wendy Williams Show!
Joanna Gaines Shares Her Watermelon Mint Lemonade Recipe And It Looks Like Summer In A Glass
She might have to change her brand to Mmmagnolia.
Apparently raising five kids, running a design empire and launching her own television network isn't enough to keep Joanna Gaines busy, she also creates delicious recipes too?!
With her lifestyle brand, Magnolia, ever expanding the Fixer Upper star has taken to sharing recipes and food tips that are fun and family friendly. In her latest blog post, Gaines welcomes summer with a thoughtful celebration. She shares that rather than focusing on a to do list for the season, she chooses a word to serve as a guidepost for her family. "Directing our focus toward an idea like exploration, curiosity, or even simplicity gives us a framework for how we ought to spend our time this season—which, in return, promises that it will be a summer well spent," she writes. Well, the word she must have chosen this year is "delicious" because she then shares her Watermelon Mint Lemonade recipe and it looks like the perfect escape for those hot summer days. Oh, and don't worry there is no shiplap in this recipe.
Watermelon Mint Lemonade
1 ½ quarts water
½ cup sugar
2 sprigs mint, plus more for garnish
5–6 cups cubed watermelon
½ cup freshly squeezed lemon juice (about 4 lemons)
Instructions
In a large pot bring water and sugar to a light boil until the sugar is dissolved and your mixture is clear, stirring to dissolve sugar—this will be your simple syrup. Turn off the heat and toss in the sprigs of mint. Allow mint to steep for 15 minutes, then remove it from the simple syrup and discard sprigs. Allow mint-infused syrup to cool for about 10 minutes and then pour into a blender with the watermelon. Blend until smooth and then pour mixture through a fine-mesh sieve into a pitcher to get rid of any seeds and pulp. Add lemon juice to the pitcher and stir. Serve immediately over ice with a sprig of mint for garnish.
To keep up with Joanna and her ever expanding universe click here.
Like what you read? Follow me on Instagram
Try Monica's Chocolate Chip Cookie Recipe From The Upcoming 'Friends' Cookbook
Could I be any more excited about these cookies?
Friends may have ended its initial run over 15 years ago but the impact it left on pop culture has withstood the test of time. Aren't we all still pining for the Ross to our Rachel? Haven't you spent years trying to come up with an alias as influential as Regina Phalange?  Don't you and your roommate spend most nights trying to master the game of cups…ok that last one might just be me. In any event, the beloved sitcom has found yet another way to wiggle its way into our homes with the release of an upcoming cookbook, "Friends: The Official Cookbook," expected to hit shelves this fall. Since it's 2020 and the year is moving by at a glacial pace, news of an upcoming book simply won't keep us satisfied. Luckily for us, a few pages of the book are available as a sneak peek and Yahoo has shared one with the recipe for "Chocolate Chip Cookies The French Way" from the episode "The One With Phoebe's Cookies."
In case you haven't seen the episode recently in one of the many rerun marathons on various networks, in this episode Monica asks Phoebe for her grandmother's secret chocolate chip cookie recipe so she can be the mom who makes the best cookies. After Phoebe reveals that the recipe was lost in her recent apartment fire, they try to recreate the recipe by tasting the last remaining cookie Phoebe had in her freezer. After 22 attempts at replicating the recipe it's discovered that the "friend" from whom Phoebe's grandmother learned the recipe was none other than Nestlé Tollhouse…aka the major Swiss food and beverage company. In Phoebe's disappointment she looks down at the floor and screams to her dead grandmother "It's because of stuff like this that you're BURNING IN HELL! " which only solidifies my theory that Phoebe Buffay is the best character ever.
Well instead of wasting 22 batches of cookie dough on an almost perfect cookie, although one batch did make Ross vomit, you can simply just follow the recipe listed in the upcoming book. The trick seems to be refrigerating the dough several times throughout the process but according the Yahoo, these will be the best cookies you ever make. Here's the recipe:
Yum, sounds even better than Emma's inappropriate, phallic-shaped 1st birthday cake.
The official cook book is expected to hit shelves on September 22nd. For more on Yahoo's experience baking the cookies, click here.
Like what you read? Follow me on Instagram
Leslie Jordan Shares An Ice Tea Recipe He Loves As Much As He Loves His Parents And Jesus
The Almigh-tea beverage.
If you haven't been following actor Leslie Jordan on Instagram are you even quarantine properly?
Over the last few months, Jordan has been sharing hilarious videos on social media with the hopes of cheering up his followers during this unprecedented time. Typically, the 65-year-old southerner shares stories from various jobs he's had or tales from his childhood but his latest post featured his recipe for iced tea because according to Jordan he was raised "to love my mama, love my daddy, love Jesus and love iced tea."
Here's the tea:
Bring a pot of water to a rolling boil
Fill two wide-mouthed, quart-sized mason jars with the water
Add 4 Lipton tea bags to each jar
Cover each jar with a lid and let steep for five minutes
Divide 1/3 cup of sugar and add to each jar
Sure it's not rocket science but it does sound like a fool proof way to enjoy some sweet southern tea! And if you want to see some more hilarity posted by the sweet southerner himself, click here!
Like what you read? Follow me on Instagram