Chrissy Teigen Shared A List Of Recipe Substitutions And It's Actually Super Helpful
We all know Chrissy has good taste…have you seen her husband?
Ever get halfway through recipe prep before realizing you are missing just one ingredient? Makes you feel like swiping the counter clear and just ordering a pizza right? Well, it doesn't have to be so violent or so messy because there are easy substitutions that can help any chef in a pinch. Don't worry I'm not just going to let you guess which substitutions work best, that would be cruel…hilarious…but cruel. Instead, I am going to refer to supermodel, tv personality and cookbook author Chrissy Teigen who recently shared an excellent guide to substitutions.
On her website, Cravings by Chrissy Teigen, the multi-hyphenate shares dozens of swaps for things you might just run out of on the regular. Kids finished up the milk in their morning cereal, Chrissy's got you. Finished up all that olive oil during your last Italian feast, Chrissy has a swap for ya. Used up all that butter trying to slip into your jeans post-quarantine weight? Yup, Chrissy has a solution for that too. Like many of us Chrissy has been trying to find new ways to stay creative in the kitchen during this time of socially distancing. She writes,
"If I have learned anything from these past few weeks, it's that being creative in the kitchen isn't just fun, it's necessary! There have been so many times where I crave something, but don't have all the ingredients to make it. And, I don't know about you, but once I want something I must. eat. it. So, I've been using these different ingredient hacks to get the job done. Just think of this as one less trip to the grocery store and STAY HOME!"
Well put Chrissy. To see all of the clever substitutions on Chrissy's site, click here! Happy cooking and stay home!
Like what you read? Follow me on Instagram
VIDEO: Cheetos Bagels And Grasshoppers Are Just Some Of The Unusual Things Brian Balthazar Has Eaten On 'The Wendy Williams Show'
You've seen pop culture expert, Brian Balthazar, appear on The Wendy Williams Show quite a bit over the last few years. He even co-hosted the show on three separate occasions. It wasn't until his last visit where he and Jason Biggs chowed down on a KFC Cheetos Chicken Sandwich that it hit me: Being on the daytime talk show makes Brian Balthazar hungry!

The proof is in the pudding…pun definitely intended. Carla Hall made sure to bring some snacks for Brian when they cohosted together.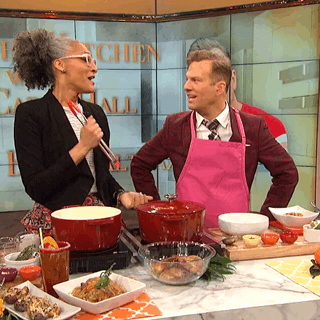 Sure, Wendy is known for telling us to "grab a snack and come on back"…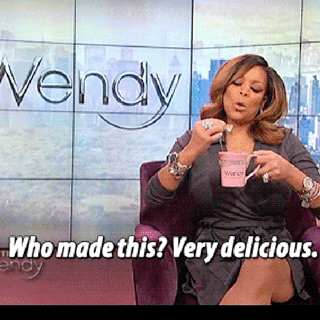 But you'd have to be absolutely famished to want to eat fish sliders at 10am.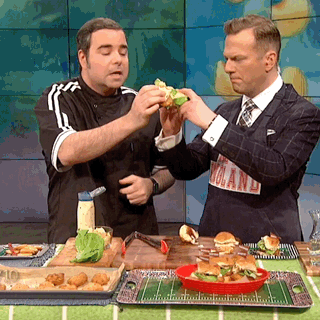 He's gotten so hungry he resorted to eating GRASSHOPPER TACOS on the show!

Could it be that Brian isn't actually hungry though? Could he just be a brave soul willing to be the taste tester so we don't have to? Could my theory be flawed?!
I suddenly feel like maybe we owe Brian a big thanks…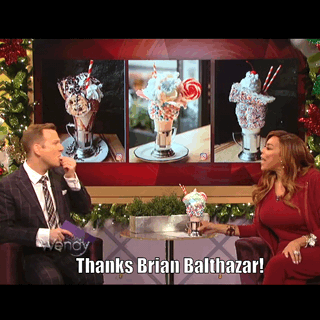 Either way, it's fun to watch! Click below to take a look at a compilation of all the fun stuff Brian Balthazar has eaten on The Wendy Williams Show!
Brian Balthazar Interviews Marcela Valladolid About Her Book, "Casa Marcela: Recipes And Food Stories Of My Life"
Food Network's host Marcela Valladolid, known from Food Network's "Mexican Made Easy" "The Kitchen" talks to AOLBUILD's Brian Balthazar about latest book, "Casa Marcela: Recipes and Food Stories of My Life in the Californias Hardcover." The book tells her most personal collection of recipes, a reflection of her experience growing up in Tijuana and traveling back and forth to San Diego to see family and friends and for school.